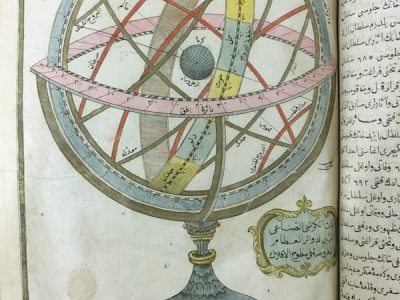 From 13 to 22 September we were at the New York University in Abu Dhabi (NYUAD). The library of the university campus houses a significant section of Archives and Special Collections: manuscripts, early printed books, photographic collections, maps, archival documents that require a customized preservation and conservation plan. The collaboration between AMALIA and NYUAD has therefore started with the aim of jointly setting up a long-term conservation plan for the collections, relying on the expertise and experience of both institutions.
Therefore, Maria Luisa Russo and Salvador Alcántara Peláez, of the British Library, were hosted in NYUAD-ASC (Archives and Special Collections) department and carried out a preservation assessment of the collections, shared with the library staff. Together we have begun to outline a comprehensive conservation plan, which includes not only the preservation of individual artefacts, but it also takes into consideration access policies and facilities, and the networking possibilities in the academic environment and beyond.
See below the image gallery.
See our images from the New York University di Abu Dhabi...