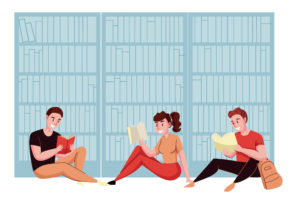 2021 – A new project: "Community Libraries –
Biblioteche di quartiere del XXI secolo a Torino"
AMALIA takes part in the project "Community Libraries – Biblioteche di quartiere del XXI secolo a Torino" (Community Libraries – Neighborhood libraries of the 21st century in Turin), a project of the Turin City Libraries System as part of the Ministry of Cultural Heritage call for projects focused on libraries. The association is currently developing the activity plan.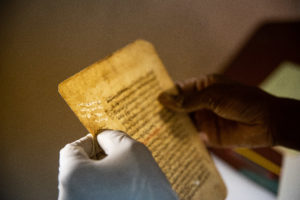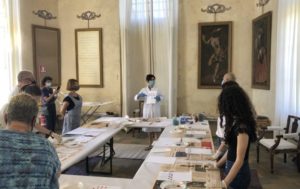 2020-2021 – FAI – Masino Castle
Workshops about books and bookmaking, taking inspiration from the library collections of the castle: a collaboration between AMALIA and the FAI – Fondo Ambiente Italiano that leads visitors to discover the heritage of the library, also rediscovering the artisan side of the manufacture of ancient books.
2019 – International Book Fair – Salone Off
AMALIA held bookbinding and illumination workshops in the frame of Salone Off, the series of events of the International Book Fair of Turin. The initiative was sponsored by the municipality of Turin, Circoscrizione 3 and an economic contribution from Circoscrizione 3.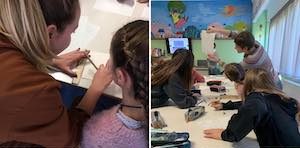 2019 – AMALIA: workshops and meetings
for schools and in schools
AMALIA held workshops and meetings for schools and in the schools: a workshop on illumination held at the secondary school in Montalto Dora (Turin, Italy).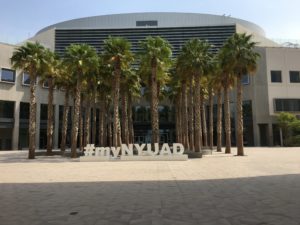 2019 – AMALIA and the New York University library in Abu Dhabi
AMALIA carried out a preservation survey on the special collections section of the New York University Abu Dhabi (NYUAD) library: manuscripts, ancient books, photographic collections, maps, archival documents that required specific measures. The collaboration between AMALIA and NYUAD therefore began with the aim of jointly setting up a long-term preservation plan with the professionalism and experience of both institutions. Together with the library staff, we have outlined such comprehensive preservation plan for the library's special collections.
Below is the professional history of the founding members of AMALIA told in images.
Study and research
Research with Italian and foreign scholars
Promotion
Around Piedmont, cataloguing bookbindings
Preservation
Preservation projects
All around the world
International projects
Bookbinding and book conservation
Sewing books, what a passion!
Exhibitions
Preparation of exhibitions
Dissemination
Conferences around the world
Special lectures
Training courses
Communication
Workshops for adults and children