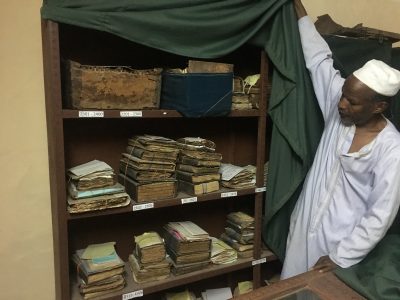 The Al-Aqib library in Timbuktu
The Al-Aqib library in Timbuktu is connected to one of the three great mosques of Timbuktu, the Sankoré mosque. Over 3,000 manuscripts are preserved in the library, witnesses to the cultural dynamism of the city over the centuries. Manuscripts are in Arabic script, mainly in Arabic language but local languages, such as Songhay, are to be found as well.
In 2012, when armed groups attacked the city of Timbuktu, most of the city's collections were moved to Bamako and in the following years were the object of a major international safeguard project coordinated by the University of Hamburg, Centre for the Study of Manuscript Cultures (CSMC) as well as a large digitisation project by the Hill Museum and Manuscript Library (HMML).
The Al-Aqib library stayed in Timbuktu, along with others, including the Ben Essayouti and Al-Wangari libraries (connected respectively to the mosque of Djingareyber and Sidi Yahya). Starting from 2018 the ELIT project, funded and coordinated by HMML and British Library, enables the digitisation of the collections of these three libraries; at the same time, a research project by CSMC is carrying out the study of local languages found in manuscripts.
AMALIA will take care of preservation: thanks to the support of ALIPH Foundation, International Alliance for the protection of heritage in conflict areas, a project is now underway which will enable to carry out preventive conservation activities in the library. Training and involvement of local people will be the milestones of the project, that aims at ensuring long-term preservation of collections while integrating the digitisation and research activities with physical preservation of artefacts: integration at the operational level, through the work of local staff on all aspects of these projects, and at the institutional level, thanks to the support of CSMC and HMML.
We are just at the beginning: there are only a few images at the moment, but new ones are hopefully coming soon.